Now accepting consignments for our upcoming February 17th, 2018 sale.
Please contact us at 610-827-1910 or email us with consignment inquiries.
Post-Sale Payment and Shipping Information:
Buyer's Premium
Each lot sold is subject to a 20% Buyer's Premium which will be added to the successful bid price (hammer price) of each lot and is payable by the purchaser as part of the total purchase price.
The Buyer's Premium for live internet bidding is 25%.
Sales Tax
A 6% Pennsylvania State Sales Tax will be added to the total purchase price for all purchases made in person at our auctions, unless purchased for resale or exempt from tax by other Pennsylvania law. All bidders who qualify for exemption must file a Sales Tax exemption form with Wiederseim Associates, Inc.
Out-of-state purchasers who win through absentee bid, phone bid, or live online bidding will not be charged sales tax if payment is made by mailing a check or credit card over the phone. For payments made in person when picking up an item won, out-of-state purchasers will be charge sales tax.
Payment Methods
Customers attending our auctions in person are expected to settle their account by the end of the day. Payment shall be in cash, money order or cashier's check. Personal and business checks will be accepted if good credit has already been established or a personal reference from individuals known to us or upon presentation of a "letter of guarantee" from an officer of your bank. This letter must state an exact amount of funds guaranteed, expressly stating the funds are payable to Wiederseim Associates, Inc. on the specific day of the Auction.
Purchasers through absentee, phone, and live internet bidding have the option of paying by cash or check at time of pick up, check by mail, wire transfer, or credit card. A 3% processing fee will be added to credit card payments.
Wiederseim Associates, Inc reserves the right to hold all or some of the merchandise purchased until good payment is received and/or any check has cleared our bank.
A service charge of $40.00 will be charged for any returned check.
Wiederseim Associates, Inc reserves the right to charge the invoice amount a 3% surcharge if bidders have not paid within 10 days of the auction date.
Pick Up
Customers who win an item in person at our auction are strongly encouraged to pay for and remove the item by the end of the auction. All property is to be removed from the premises at the risk and expense of the purchaser, subject to limitations stated at the time of sale.
If items are left for later pickup from the warehouse, they must be paid for, in full, on the day of the sale. Purchasers who were not present at the auction may make payments in cash or check at time of pick up.
All items not removed from the auction location will be returned to our warehouse and buyers may pick up or arrange to have their items shipped. Any items left at the sale site are left there at the purchaser's risk.
Warehouse location: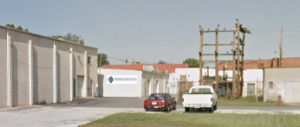 (Click the photo or address for Google Map)
The warehouse is open for the week following an auction from 10am – 2pm for purchasers to pick up their items. After the conclusion of that week, appointments are required.
If items are not removed within two weeks of the conclusion of the auction, a fee of $5 per business day, per item, will be charged. Items not removed within 60 days of the auction date will be consigned to a future auction without additional notice to the purchaser and/or refund. The Auctioneer assumes no responsibility for abandoned items.
Shipping
Wiederseim Associates does not ship; however, we can help the winning bidder with arrangements to have purchases shipped. All costs and expenses are responsibility of the purchaser. The following companies are recommended by Wiederseim Associates, Inc.
Recommended Shippers:
*Once you have chosen a shipper please email us at

[email protected]

with your consent to release lot(s) to that shipper .
Mail & More Plus
610-430-2003
[email protected]
The Packaging Store
215-361-6940
[email protected]
DAKS Global Logistics
484-370-8992
[email protected]
Vintage Transport
800-333-0056
[email protected]
Local Furniture Transport:
Harry Quinn Transport
484-678-1329
Josh Unruh
610-506-7881
Pakmail International (covers entire East Coast)
Stefan Gortat
(843) 795-7197
[email protected]
PO Box 470, Chester Springs, PA 19425 | Tel: 610-827-1910 | Fax: 610-827-1930 |
[email protected]